The Initiative for Energy Justice (IEJ) seeks a Co-Executive Director, Programs and Policy to lead and manage IEJ as part of a two-person executive team. We are looking for candidates with a background in energy policy, a commitment to equity, and demonstrated skills in executive leadership, management, and influence. This is an extraordinary opportunity to guide the trajectory of a national research and resource center dedicated to advancing a just transition to renewable energy across all U.S. states. Founded in 2018, IEJ is growing from a startup organization into an established institute simultaneously as the country significantly accelerates creating rules and regulations governing the expansion of renewable energy.
Applications will be reviewed on a rolling basis until the position is filled.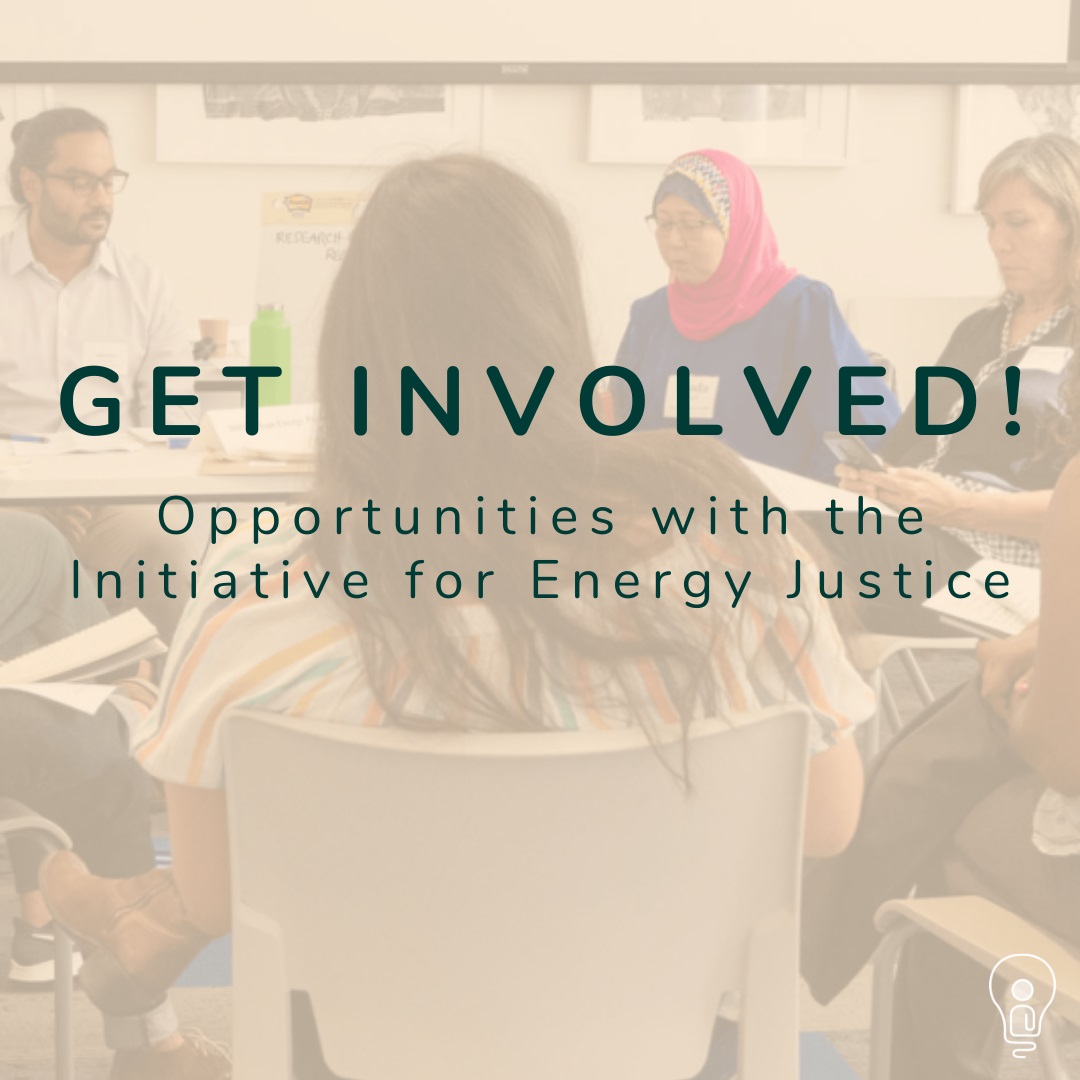 How to Apply
Please use this link to review the full job description and submit your application, including a resume, cover letter, and list of references in one PDF. Please email hello@iejusa.org with any questions. 
About the Initiative for Energy Justice
The Initiative for Energy Justice (IEJ) envisions a transition across all U.S. states and territories to true energy justice – ensuring energy is accessible, affordable, clean, and democratically managed for all communities, while also remediating past social, economic, and health burdens on those disproportionately harmed by the current energy system.
IEJ was founded by lawyers entrenched in the policy debates concerning the nation's transition away from fossil fuels and an extractive economy towards an equitable and renewable energy future, with direct connections to communities working on that transition.
IEJ's Culture and Benefits
Our core values are voice, inclusion, and equity. The unique voices of frontline communities and communities of color must be included in the transition away from fossil fuels to clean energy. And equity must form the core of this transition, given the burdens borne by frontline communities under the energy system.
We strive to cultivate a workplace culture of joy, collaboration, thoughtfulness, and growth. We recognize that work to dismantle inequities and advance justice can be draining, complex, and involve facing past trauma. Yet by embracing hope, collective care, and recognizing our intertwined journeys for liberation, we aim to find joy and meaning by working together to advance energy justice.
Salary

will be in the range of $82,000 to $128,000 depending on experience. 

Benefits include health benefits, paid time off, retirement benefits, wellness and more.
Learn more about the Initiative for Energy Justice's vision, strategies, objectives, and activities
Additional information
Location: Remote within United States
Travel: Required periodically, on average quarterly
Position Type: Research
Additional Information
Northeastern University considers factors such as candidate work experience, education and skills when extending an offer.
Northeastern has a comprehensive benefits package for benefit eligible employees. This includes medical, vision, dental, paid time off, tuition assistance, wellness & life, retirement- as well as commuting & transportation. Visit https://hr.northeastern.edu/benefits/ for more information.
Northeastern University is an equal opportunity employer, seeking to recruit and support a broadly diverse community of faculty and staff. Northeastern values and celebrates diversity in all its forms and strives to foster an inclusive culture built on respect that affirms inter-group relations and builds cohesion.
All qualified applicants are encouraged to apply and will receive consideration for employment without regard to race, religion, color, national origin, age, sex, sexual orientation, disability status, or any other characteristic protected by applicable law.
To learn more about Northeastern University's commitment and support of diversity and inclusion, please see www.northeastern.edu/diversity.