Published August 18, 2020
Friends,
Over the past few months, protests have erupted globally in response to the unjust murders of George Floyd, Breonna Taylor, Ahmaud Arbery, Tony McDade, and so many more Black Americans who have been the targets of senseless violence, a byproduct of the culture of white supremacy and systemic racism in this country. The centuries-old wounds of racism, inequality, and oppression in America are once again exposed for the world to see. 
We at the Initiative for Energy Justice want to express that we share in the collective pain, anger, and grief that is felt by the Black community and its allies, and we stand in full solidarity with the Black Lives Matter movement as well as the many other grassroots movements that are fighting to dismantle these systems of oppression. We recognize the unique inequities Black communities face in this country, commit ourselves to anti-racist activism, and affirm that Black lives always have, and always will, matter.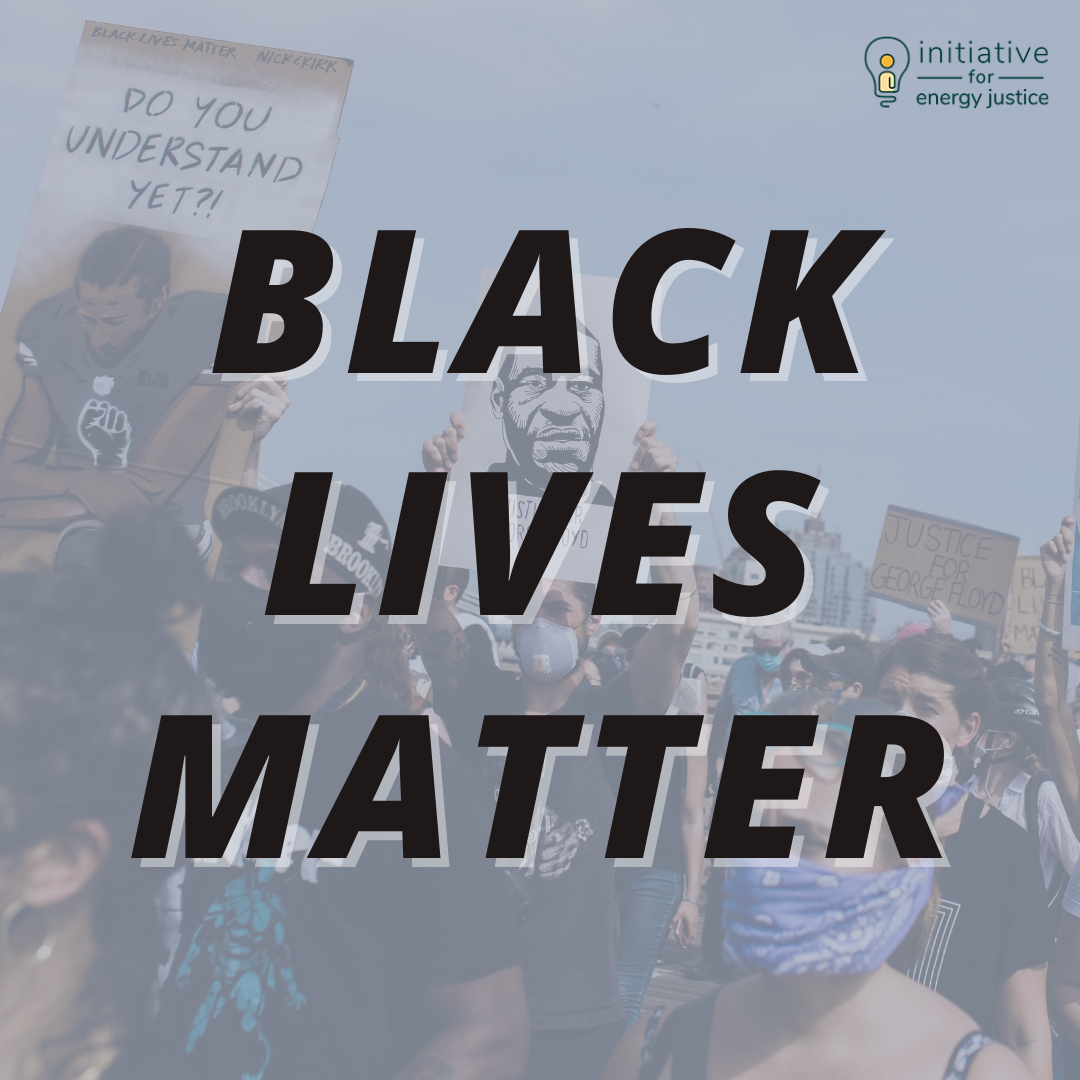 The Initiative for Energy Justice was founded on the core values of voice, inclusion, and equity. Our co-founders joined together with the hope that the clean energy transition can provide a concrete way to dismantle the structural violence that undergirds the current fossil fuel-based energy system. Now more than ever, we recognize the importance of our work, and are determined to ensure the inclusion of marginalized voices in the pursuit of an equitable, just energy transition. 
In 2020 alone, we have seen how the disproportionate COVID-19 death rates for people of color are linked to a history of energy injustice, particularly for Black communities and Indigenous peoples. Studies have shown that Black, Indigenous, Latinx, and other communities of color are far more likely to live near polluting power plants that affect air quality and lung health, which has left these populations remarkably more vulnerable to COVID-19 than their white counterparts. For communities of color, the link between the knee on the neck of a Black man or an unlawful chokehold around the neck of a Black person mirrors their day to day life. They can't breathe. 
These are just a few of the ways that the energy system and racial injustice connect in the lives of Black Americans and communities of color. We must acknowledge that these injustices all result from the same oppressive system that creates the conditions under which police brutality and racial violence have thrived. This is why the pursuit of energy justice does not simply support anti-racist activism—it is a crucial part of it. 
As we move forward, we want to recommit ourselves to providing our network of advocates, activists, and policymakers with the tools and frameworks they need to push for a just energy transition that centers racial justice. We encourage you to visit our existing resources, and stay tuned as we will continue developing tools that advance equity and racial justice in the energy transition. We also want to highlight the incredible work and ongoing resources from The Movement for Black Lives (M4BL), which, since 2015, has been a leading force in the struggle for Black liberation. In 2016, M4BL produced and shared a comprehensive policy platform: the Vision for Black Lives.The group is now rolling out updated policy briefs for the platform in advance of a National Black Convention happening virtually on August 28, 2020.
We look forward to providing more resources in the coming months. Amidst our grieving, let us also unite in hope, which will be the fuel to power us toward a more just future for all. 
With love and in solidarity,
All of us at the Initiative for Energy Justice