Update:
We are no longer accepting applications for the fellowship positions. We are hoping to reply to all applicants who submitted on or before March 15 by April 30, and all other applicants by May 7. If you have any questions in the meantime please
contact us
. Thank you for considering this opportunity!
About the opportunity:
The Initiative for Energy Justice (IEJ) provides law and policy resources to advocates and policymakers to advance state-level transitions to equitable renewable energy. We envision a transition across all U.S. states and territories to true energy justice—ensuring that energy is accessible, affordable, clean, and democratically managed for all communities, while also remediating past social, economic, and health burdens on those disproportionately harmed by the current energy system.
IEJ is seeking two passionate and policy-driven fellows to engage in energy justice law and policy research in support of an equitable transition away from fossil fuels. The fellows will work closely with, and co-manage, a team of student researchers; publish research in peer-reviewed journals; issue policy briefs on behalf of the organization; and design training materials for use in community organizations. The fellows will receive training, mentoring, and additional support to effectively accomplish fellowship goals. The fellowship will last two years and focus particularly on developing resources to support communities in the New England region.
The two fellows will be the inaugural participants in IEJ's new fellowship program. We hope to eventually have a cohort of five to six fellows by 2022, supported and mentored by senior-level directors. IEJ's fellowship program aims to build the field of energy justice leaders by employing and training emerging professionals, including recent law school graduates, as well as graduates from other masters and PhD programs.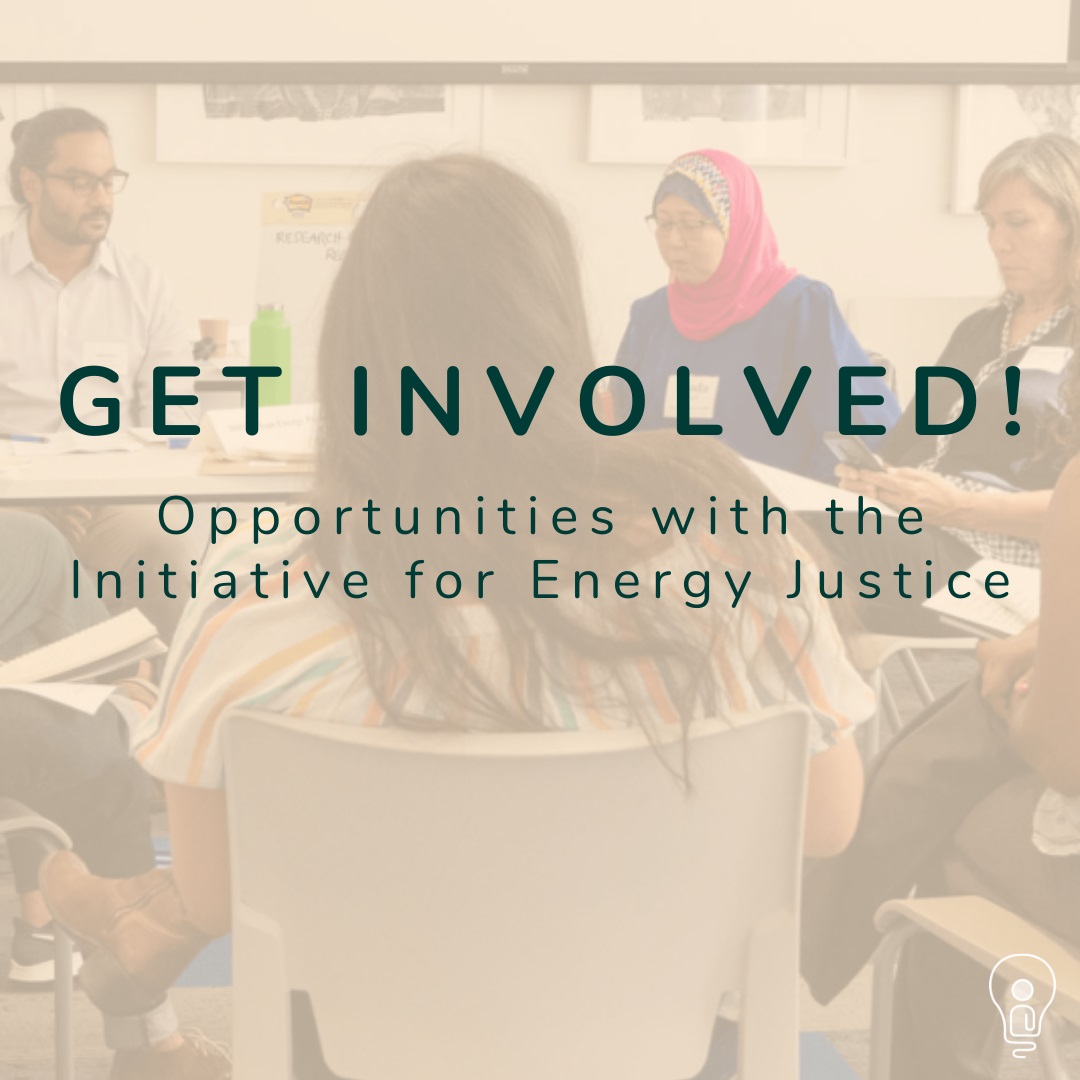 Responsibilities:
Research and Writing:
Develop and lead energy justice research projects;
Publish research in peer-reviewed journals; and
Issue policy briefs on behalf of the organization.
Community Outreach and Engagement:
Design training materials for use in community organizations;
Conduct webinars and trainings on toolkits, policy briefs, and other research developed by IEJ; and
Meet and collaborate with frontline community leaders and policy experts.
Qualifications:
Advanced Degree (JD, MPP, MBA, or PhD in relevant field) or equivalent experience.
Demonstrated commitment to social and racial justice.
Experience writing and presenting policy research.
Strong written and verbal communication.
Preferred Qualifications:
Experience working in diverse communities.
Written and spoken Spanish, Vietnamese, Portuguese and/or Haitian Creole.
Deep understanding of state energy policy and relevant literature on energy justice, climate justice, and environmental justice.
Some supervisory experience.
Additional information:
Salary Grade: 10
Location: Remote, with a preference for applicants residing in New England
The Initiative for Energy Justice is housed at Northeastern University School of Law. Founded in 1898, Northeastern is a global research university and the recognized leader in experience-driven lifelong learning. Our world-renowned experiential approach empowers our students, faculty, alumni, and partners to create impact far beyond the confines of discipline, degree, and campus.
Northeastern University is an equal opportunity employer, seeking to recruit and support a broadly diverse community of faculty and staff. Northeastern values and celebrates diversity in all its forms and strives to foster an inclusive culture built on respect that affirms inter-group relations and builds cohesion.
All qualified applicants are encouraged to apply and will receive consideration for employment without regard to race, religion, color, national origin, age, sex, sexual orientation, disability status, or any other characteristic protected by applicable law.
To learn more about Northeastern University's commitment and support of diversity and inclusion, please see www.northeastern.edu/diversity.