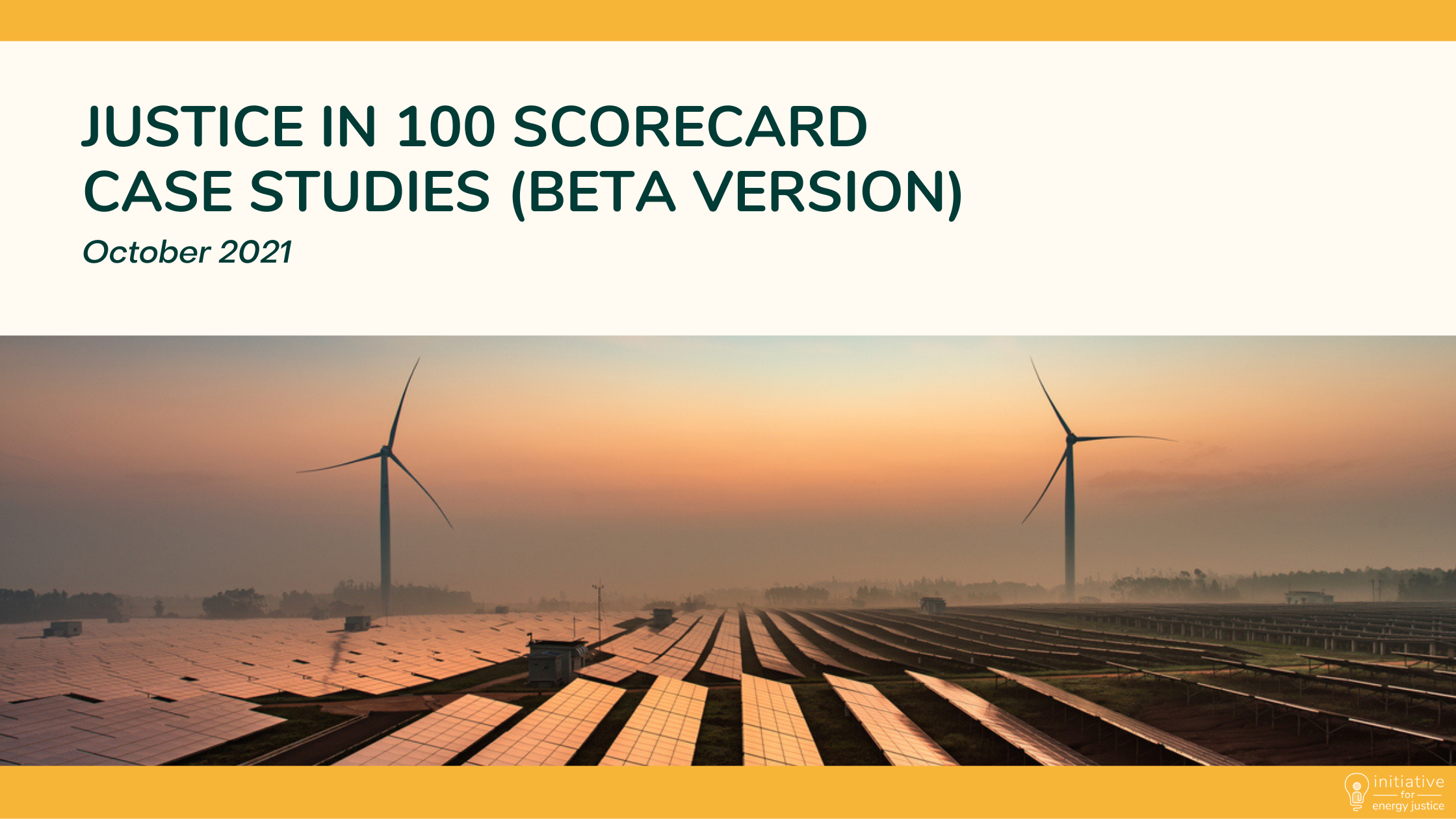 The Initiative for Energy Justice's
Justice in 100 Case Studies (Beta Version)
is now available by request. Email
hello@iejusa.org
for a copy of the report. 
The Case Studies apply the questions and worksheet in the Justice in 100 Scorecard to independently evaluate 100% clean/renewable energy laws across ten jurisdictions. The Case Studies include: 1) a brief summary of each jurisdiction's score and evaluation, 2) a one-page summary scorecard for each jurisdiction's performance in each of the Justice in 100 metric categories, and 3) a detailed worksheet further explaining the methodology for each score. 
Research for the Case Studies consisted of several iterative cycles of legislative analysis and scoring, interspersed with interviews and feedback. After producing initial draft scores, we spent four months growing our partner network, connecting with frontline community organizations and advocacy groups in all ten jurisdictions. During this time, we hosted fourteen calls with thirty-three individuals, receiving written and verbal feedback on the structure and content of our analysis. Upon integrating feedback and additional analysis, we completed the beta report in October 2021.
Following the release of the beta version, we conducted an intensive community feedback process to gather additional input. Over fifty individuals around the country participated and provided verbal and written feedback. Participants included environmental justice advocates, indigenous community activists, mainstream environmental organizations, regulators, students, and others. We are currently processing reviewer feedback and plan to release a final version of the report later this year. 
While we integrate feedback and produce a final version, we are providing this beta version report upon request to meet the immediate need of some stakeholders for such an analytical resource – particularly advocates and policymakers in jurisdictions currently considering drafting or reforming 100% laws. 
If you have any questions about the report or the feedback process, please feel free to reach out to us at hello@iejusa.org. We appreciate any additional feedback readers would like to provide on the report but cannot guarantee that all suggestions will be integrated into the final version.